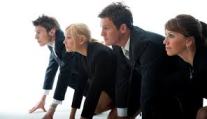 The multitude of rules, forms and procedures that you will have to deal with as a starting entrepreneur or self-employed person can sometimes be difficult. Finba administration office can help and support the starting entrepreneur or self-employed person in the right way.
You must first register with the Chamber of Commerce. After your registration, your company will automatically be registered with the Tax and Customs Administration. After a few weeks you will receive a tax number from the Tax Authorities, with which we can further handle all your tax matters.
The next step is to open a business bank account. This is important, among other things, to periodically record and process the bank transactions in an accounting program for your company.
We are happy to assist you in your contacts with these and any other external parties. As soon as you really get started, we take care of your administration and discuss whether your plans can actually be realized.
At your request, we can provide assistance for your invoicing for the services you have provided, this is often also a request from self-employed persons and starters.
As a starter or self-employed person, we offer you a special and affordable monthly subscription for taking care of your accounting, starting from
€ 65,= per month excl. VAT. If your company grows and the administrative work increases, a different monthly rate will be discussed with you.