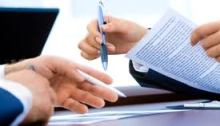 Your administration and accounting is the foundation of your company. If you, as an entrepreneur, decide to spend all your time and energy on building and expanding your company, outsourcing your entire administration is the solution for you.
Monthly or quarterly you can submit your administration digitally by e-mail or at our office. We also offer you the no-obligation service to update or collect the administration at your location. Based on this, we take care of your complete accounting accurately, quickly and efficiently. With timely updated and correct administration you get more out of your company, and you will not be faced with any surprises.
You can receive a quarterly report from us including a balance sheet and profit and loss account. With the sales invoices received and the updated bank transactions, we can pass on the outstanding debtor items to you at your request.
With this information you can make the right decisions in a responsible manner. In addition, this data is used to periodically prepare the turnover tax return, and annually also the income or corporation tax return for you and to submit it after consultation.